By Patsy Robertson
Barbara Davis is an artist absolute. She has arrived. There have been many years of plotting and plodding. Now she can take center stage. Now she can live her dream.
She is art personified. Consider her ebullience. Her warmth. The lioness, rich brown hair. Softly glowing green eyes. An easy smile revealing rosy cheeks and dimples. And her gentle, southern voice.
That's the Barbara Davis you'll get full force when you come face to face with the artist. And it is soon evident that she and art are synonymous. It is her life and joy.
"There is meaning to art when you paint the things you love. Paint your heart, and paint people," she says. 
A Fine Arts graduate of AUM, Barbara took a variety of jobs at first in Montgomery "to make a living," she laughs. Initially she was a runner, secretary, graphic artist, store clerk. Then for more than a decade she was employed at a local bank, as a loan administrator. All the while, the artist continued to paint on the side.
Painting portraits was her mainstay in the earlier years. At a national portraiture seminar in Atlanta, she realized that she could actually survive financially with paintings. However, it tended to be "feast or famine," she grinned.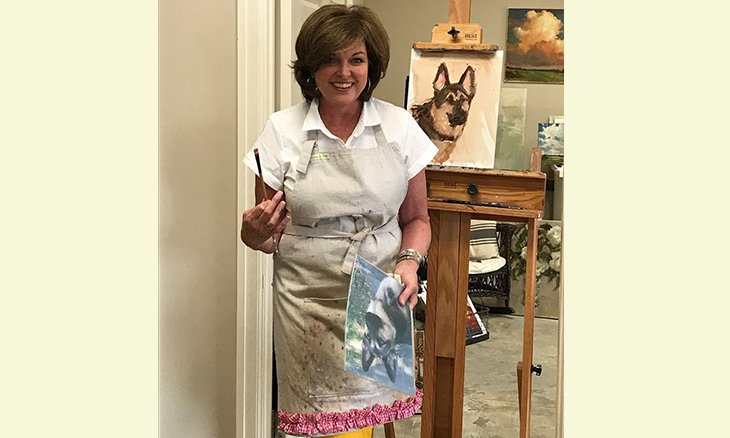 To further her art career goal, Barbara started painting more, entering shows, receiving awards, placing artwork in galleries. She was on her way, with "seeds of hope" she found through these efforts.
In 2004, she experienced a eureka moment. While at the beach on vacation, she saw an "American Artist" magazine which featured a favorite technique. 
"There was an article in it about a plein air artist. I knew I wanted my paintings to look like hers! I flipped to another page, and there was another article about plein air painting! I determined when I got home I would get a French easel and get started. I felt it was the key to achieving what I wanted in my painting."
"En plein air," is a French expression meaning "in open air, outside."  Barbara became recognized for her paintings of landscapes, flowers, skies. Especially she is known for painting clouds. She is uniquely able to create a delicate, iridescent quality within the clouds she paints. 
"It's all about light and shadow," she explained. "The way light hits objects, buildings, a flower, a cloud, a child's face.
She continued, "I learned early on that you can see things while painting from life that you are just unable to see in a photograph."
Another exciting technique has emerged for our artist. She has been a pioneer in what is called "Live Event Painting."
Just as the name implies, these paintings are done on-site at a variety of events – weddings, birthday parties, ceremonies. It has become so popular that Barbara is constantly booked for paintings in the River Region area, and beyond.
"I've had the joy of painting big weddings and intimate gatherings. I've been as far as Austin, Texas, and Nashville, Tennessee. In Savannah, Georgia, I painted the wedding of one of the Pittsburg Steelers and his bride who is an ESPN sideline reporter.
Kristi Malzahn, wife of Auburn University's head football coach, commissioned Barbara to paint the football field at Jordan-Hare Stadium after an Iron Bowl game. Needless to say, it was a victorious night for the Auburn Tigers.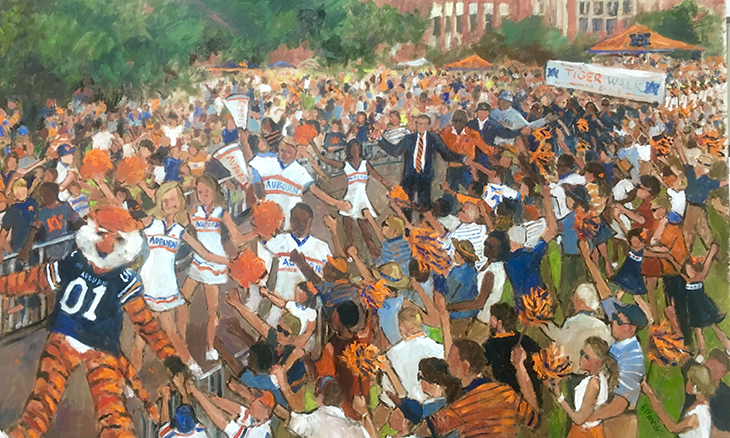 At the Inaugural Ball for newly elected Alabama Governor Kay Ivey, Barbara was on hand to create one of her live paintings. Governor Ivey's staff had commissioned the artist. It would be their personal gift for the newly installed state leader.
The artist said she likes to arrive at an event approximately an hour and a half before it begins. Within that time, she can get the feel, layout, even start painting some details of the background. 
"I plot out where people might be sitting, where the bride and groom will dance. When the guests arrive, I begin painting them in, looking around the room for color, poses and people who are still! I try to get as many family members and wedding party members as I can. It takes me about three to four hours from start to finish, depending on the size."
Barbara Binford Davis, also known as Mrs. John Davis, is home grown. She sprang from roots nurtured in Montgomery County soil. She is a proud product of Montgomery Public Schools, having attended Floyd Elementary and Floyd Junior High School and Sidney Lanier High School. For higher education she attended and graduated from Auburn University Montgomery.
Fine paintings of our artist are in numerous galleries, local ones and in other cities, including Birmingham, Alabama and Charlotte, North Carolina. Visit her website for more information: barbaradavisart.com.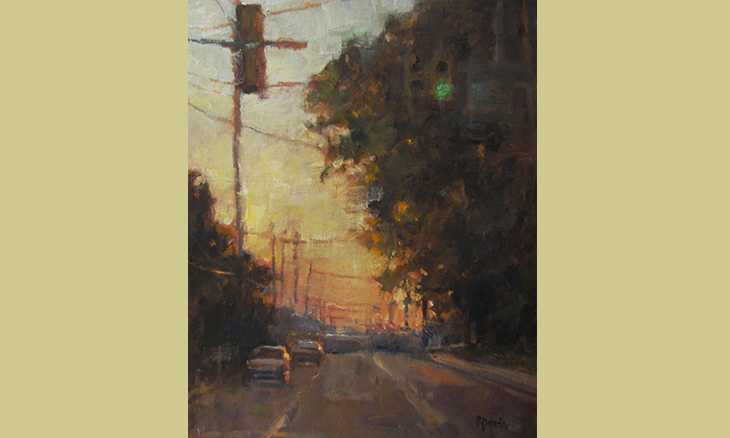 -30-