Going Greek: The Benefits in College and Beyond
By Melissa Johnson Warnke
College is full of opportunities for students to get involved and build lasting friendships, and one of those is Greek life. While joining a sorority or fraternity isn't necessary for a successful campus experience, it can provide a myriad of benefits during and after college that aren't just social in nature. 
This August, Montgomery native Roma Pirnie will begin her freshman year of college. She's headed to Rhodes College in Memphis, Tennessee, five hours away from her hometown. 
"I don't know anyone there yet," said Roma. "I am so excited to go through recruitment because it will give me the chance to meet people I wouldn't have met otherwise."
For Roma's mom, Natalie, that idea is particularly comforting. With her daughter hundreds of miles away, she knows the support system of a sisterhood will create an immediate sense of belonging. 
"I know this is going to be a great way for her to make friends, and they will probably be her friends for life," said Natalie. 
Aside from an instant social network, each sorority and fraternity has a designated charity, for which they raise money and awareness. For many students, this philanthropic work can spark lifelong interest in a cause, while also helping develop leadership skills.
"At Auburn University, sorority life provides you with structure and a path to get connected with community service and university involvement," said Lindsay Ollis, the Panhellenic Advisor for Auburn.
In addition, Greek organizations take their academic rankings seriously. Most fraternities and sororities require members to keep a certain grade point average and will offer organized study sessions to provide an academic boost. 
The perks don't just end at graduation, though. Greek life can also promote lifelong connections and a shared bond that can help in future business dealings, job interviews or a move to new city.
"Your sisters will always be your biggest supporters and loudest cheerleaders. Joining a sorority will give you a network of women that will support you wherever you go in life" added Lindsay. 
PREPARING YOUR RECRUITMENT WARDROBE
Another part of the process that is specific for sororities is knowing what to wear each day of recruitment week.  
Alexia Henig, owner and stylist at Splurge, a women's boutique in Montgomery, has helped hundreds of women prepare over the years. She says it's best to start your shopping early to avoid overspending as well as the stress of last-minute decisions.
"You don't have to spend a fortune on outfits," said Henig. "The main thing is to find something that makes you feel good because that will immediately boost your confidence. There's nothing worse than having to tug or pull on what you are wearing all day," she added.
The recruitment week schedule is unique to each college, but for the most part, all schools, small to large, follow a similar pattern, including the University of Alabama, Auburn University, Huntingdon College and Troy University.
The first day or two is an introductory round, sometimes called Ice Water Teas, because ice water is served rather than tea. The attire for these days is casual, but dressy, so a sundress, a skirt or a nice romper is often suggested.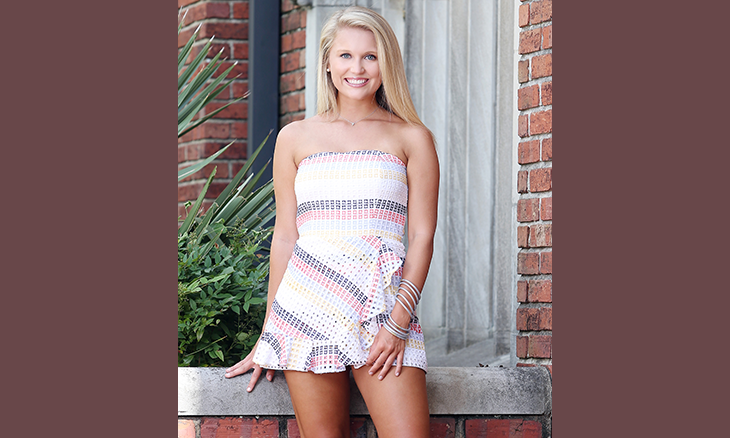 "You will be visiting a lot of sororities and will be outside a lot, so make sure you have comfortable shoes," Henig said. "Sometimes, you will be sitting on the floor, so it's important that your outfit is not too tight to sit."
The next round is typically a philanthropy day, where sororities will introduce you to the ways they serve their community. During this round, most universities will provide a T-shirt, and it is appropriate to wear shorts or a skort and sandals.
Each day of recruitment week, the number of parties attended will decrease as both the sororities and the potential new members continue to narrow down their options. By the third round, which is sometimes called Sisterhood Day, the dress becomes more formal. This day requires a nice church dress. 
The final round, Preference or Pref day, the attire is the most formal. A black cocktail dress or dressier church dress is usually worn. Although any color dress is permitted, most women will wear black.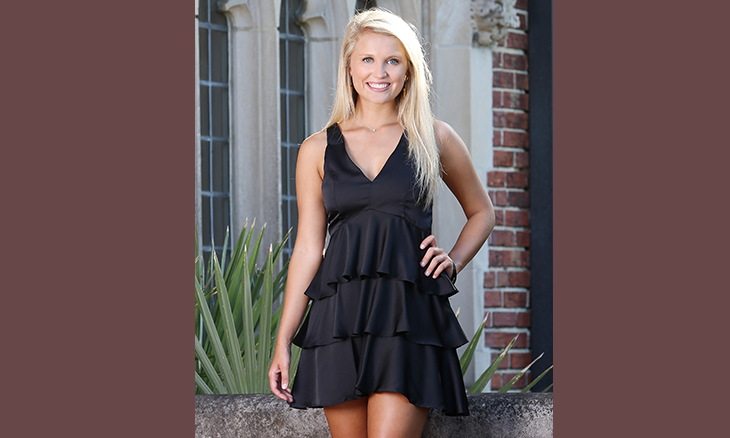 Henig, who was in a sorority herself, often reminds those shopping for recruitment week to not let the details become overwhelming. 
"I tell everyone to go in with an open mind, have fun and just be yourself! It's best not to discuss too much with your friends because you'll want to make the choice on your own," said Henig. 
It's a sentiment that Natalie Pirnie also shares – empowering her daughter Roma to make her own decision.
If there's one piece of advice Natalie has for parents whose daughters will soon go through recruitment, it's to not be afraid to ask questions.
"There were so many things I didn't know or understand as Roma began this process, and I found that women were always willing to write a recommendation or offer great advice. It was a great reminder to me to lean on others for help, and I think that is a wonderful thing for my daughter to remember as she heads off to college," Natalie said.