Life in the RV Lane
Motorhomes are a great way to travel without the worry of finding lodging in new towns. Many folks find it appealing to have their own personal space complemented with belongings that are familiar. 
By Becky J Beall
Motorhomes, also referred to as Recreational Vehicles (RVs), account for more of the travel and tourism crowd than you'd think. In fact, the overall economic impact from the RV economy (according to the RV Industry Association) for 2015 was some $50 billion! From local RV parks and resorts to favorite destinations on Alabama's Gulf Coast and into state parks, people are enjoying RV travel more and more.
WHERE ARE RV TRAVELERS GOING?
According to Tom Austin, former Montgomery-based RV owner and traveler, people love the freedom of having an RV for travel because of convenience. "No matter where you want to go, you can find an RV park, resort or campground with a spot available for you. And, when you're ready to go home, you just unhook and leave … no packing," Austin said. Living in an RV isn't for everyone, explained Austin (who does live in one), but most people do love traveling around in them. Locals love traveling to Alabama beaches in their RVs—no fighting for affordable hotel rooms or condominiums—just pull in and let the vacation begin! Island Retreat RV Park is a Gulf Shores treasure, state-of-the-art with level, concrete pads, making setup quick and easy. Added park amenities like a pool, bike path, clubhouse, showers, laundry, Wi-Fi, cable and a playground make this site perfect for families or couples.  Fort Morgan RV Park is located in the Gulf Shores area on the Fort Morgan peninsula, and ranks high with coastal destination RV travelers. A small park with only 34 sites, this park is for the visitor looking for privacy and tranquility. Enjoy fishing from the pier and soaking in all of the wildlife encounters. Visits to nearby beaches, Bon Secour Wildlife Refuge and historic Fort Morgan are musts when overnighting here.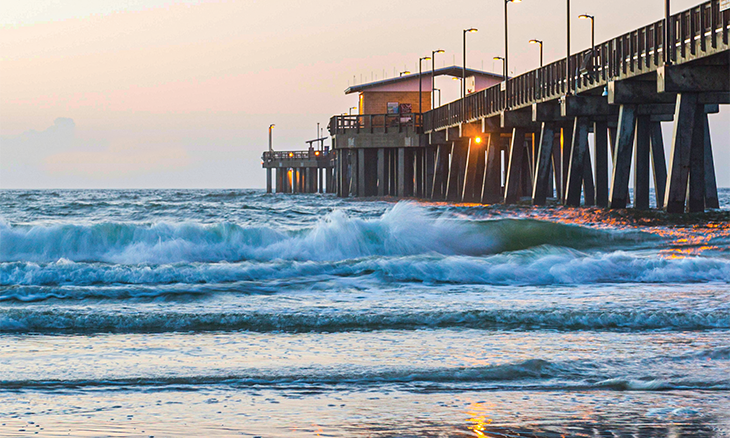 NEARBY STATE PARKS THAT OFFER RV SETUPS
Just north of the River Region area you'll find Oak Mountain State Park in Pelham, a Birmingham suburb. With much to offer, this state park is known for relaxing stays with lake activities, golf, fishing, hiking and biking. The surrounding area offers plenty of eateries both casual and upscale, lots of art and museums, shopping and more! A familyfriendly campground with Law Enforcement Rangers and security personnel, this park is an excellent choice for long weekends and extended stays as there is water, electricity and sewer available along with seven bathhouses and laundry facilities.  Gulf State Park is insanely popular with RV travelers as it grants close proximity to the pristine Alabama beaches known for sugar-white sand with juxtaposing turquoise waters and more amenities than imaginable. The park offers almost 500 full hookup sites with paved pads and most will accommodate a pullout. There are air-conditioned bathhouses, laundry facilities, recreation (think horseshoes, volleyball, tennis and pickle ball), a swimming pool and a splash pad. Visit the Nature Center where you can learn about local wildlife, take a hike, go fishing or relax on the beach. On-site restaurants at the all-new Lodge at Gulf State Park make this an even more appealing vacation spot.
OTHER STATEWIDE RV SITES NOT TO MISS
Alabamians are lucky. There are tons of great adventures awaiting in destinations north and south of the River Region. Here are a few extras to put on your RV travel radar, and if you should need additional details or park information, Camp in Alabama (http://www.campinalabama.com/) is a great resource.
DeSoto Caverns Park just outside of Birmingham attracts folks with 30- and 50-amp hookup sites as well as caves!
Lake Lurleen State Park is close to Tuscaloosa and sports 23 miles of hiking and biking trails as well as a lake. Fish for your dinner and enjoy the views.
Cheaha State Park is located in the Talladega National Forest and home to Cheaha Mountain, the state's highest point. There are stunning waterfalls, views and hikes throughout the park where electricity, water and sewer are available at RV sites.
Lakepoint State Park is on the banks of Lake Eufaula aka "The Bass Capital of the World." This 45,000-acre park is home to playgrounds, swimming pools and hiking trails suitable for the entire family. Lakepoint offers some pull-through spots specifically for RVs as well as water, electricity and sewage.
SUMMING IT UP Alabama is more than football, sweet tea and pecan pie. Its diversity remains one of its most lovely cornerstones. There are amazing destinations in every nook and cranny, so when you're ready to take your home on the road, look to these statewide hot spots for travel fun and frolic. They're perfectly poised to make life in the RV lane extra exciting!