Stephen Poff Directs New Film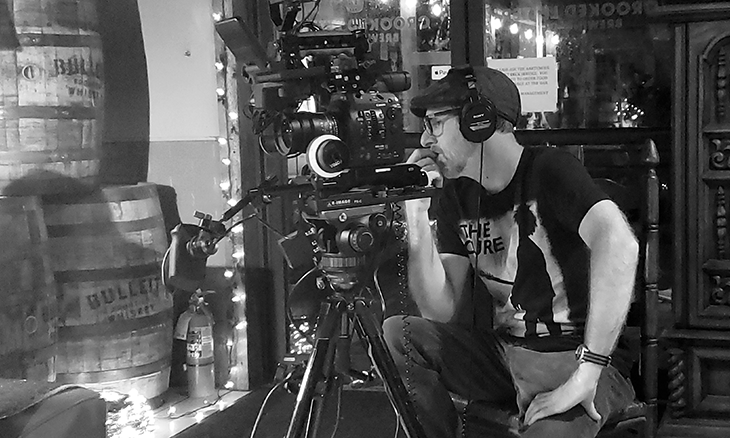 By Lynn Cox
We sat down with Stephen Poff recently to talk about his newest creative project, a film called "The Song You'll Never Hear." It is a sequel to the film "Songs about Your Girlfriend". a film he produced years ago on the Mississippi Coast before Hurricane Katrina, We took time to learn about his beginnings on this path to filmmaker. 
If you know Stephen, you know he is a humble, modest man, but oh the talent that he has is extraordinary. Poff, originally from Mississippi, had a tough upbringing. His father was a bit of a rounder and stayed in trouble more than he stayed at home. His parents eventually divorced and his mother re-married a wonderful man who took Stephen and his sister in as his own. He was a quick learner and always trying new things. Even though the funds to go to college were not there, that did not keep him from learning and pursuing his dreams. 
He had written songs, been in a rock band while in high school, then worked as an engineer in a recording studio. Along the way, he took a move into graphic design. But as he says, "I wasn't happy and didn't feel like I had found my calling." So, he began to try his hand at filmmaking, starting with a short film with his daughter and her friends. 
Poff said he read "Rebel Without a Crew", a book by Robert Rodriguez, an American filmmaker who shoots, edits, produces and scores a lot of his films. The story was about how he produced the film, "El Mariachi", under some of the hardest circumstances. This was the inspiration Poff needed to start a bigger film project. Poff had just finished a rew record called "Goodbye", but wihout his former band mates, he had no outlet for the material. Needing a new creative outlet, he decided to write and direct a film featuring the fictional band Minnie Strange to highlight those songs.
He asked a friend of his, Ronnie Blakeney, a photographer/videographer and kind of a "Jack of all Trades" with many contacts around the Mississippi Coast, to help him get started. Ronnie saw his creative talent and jumped right in, pushing Stephen forward. "When I started I thought it would be a small project that I would watch with my kids and friends, oh this will be fun and maybe two people see it," said Poff. "But Ronnie pushed me to take it to the next level. We had two days of casting and auditions." And with the help of others his film project took on a life of its own.
Once the film was complete there were premieres in Pascagoula, Mississippi, and in nearby Biloxi. They sold every DVD they produced. But, Poff said, "The wind got taken out of its sail so to speak when Hurricane Katrina hit the Gulf Coast in August of 2005." Poff found himself wondering what direction to go from there. However, his film, "Songs About Your Girlfriend," would prove to be popular along the Mississippi coast.
Because of Katrina, he and his family eventually moved to Montgomery to help design and shoot photography for the magazine, TRAVELHOST. The publisher whom he had worked for on the Mississippi Coast brought the magazine to Montgomery. With his trips back and forth to Montgomery from the coast, he fell in love with Montgomery and all the history it held. On one of his trips, the opportunity to interview for creative services manager with Charter Media happened. He got the job. There he continued to hone his skills and provide creative commercials that weren't your normal local commercials. 
A local agency took notice of Poff's extraordinary talent and scooped him up to work for them.  There he provides clients with a level of video design that exceeds their expectations.
Poff is always looking for ways to challenge himself with projects like the 365 days self-portrait project he did a few years ago. It was one of the things that attracted the agency to his work. He has also written and produced music videos. 
He is just finishing a sequel to "Songs About Your Girlfriend" called "The Song You'll Never Hear." It's a short film that picks up several years after the band parted at the end of the other to tell the story of how the lead singer's life takes a devastating turn. 
The sequel came about because so many friends and acquaintances remembered the other film. "People would stop me on the street when I was down in Mississippi and ask me when the next film would be coming out," he said. "Cast members would call and ask, 'when is the next one coming.' Apparently, the DVD got passed around a bit whether I was aware of it or not."
One evening one of his friends, Jason Hendren, sent a post on Facebook with the DVD photo asking, "when are we going to get a 'Songs 2.'" Poff said, "That really got me to thinking about it. I was between projects. So, I sat down at my computer and started working on a draft." A couple of pages in, he sent it out to the cast in a group chat, asking "what do you guys think?" All the cast agreed they were in. "That got me excited!" Poff said. "That was the beginning of the writing of the script."
The project was not all smooth sailing, though. "This was one of the most difficult things I've had to do," he said. "Going back to the script, one of the challenges was whether one of the actors was going to be able to participate. Because of that, the script took its own journey. We had to think about how we could work around whether we had this person available or not." Poff said he built the script sort of modularly, to work around this issue. 
Once he finished the script, he got all the props secured and was ready to start filming, but more issues occurred. Filming started in Ocean Springs, Mississippi, back in November. He had to travel back and forth to Mississippi with equipment and a production assistant. The first weekend of filming, they were seven hours late when the production assistant's grandmother became ill. Another challenge arose on another night of filming when the bar owners didn't understand the requirements of the production. They booked four metal bands to play that evening, causing them to have to work around the breaks of the bands.
And, another disaster that happened was one that almost gave him a heart attack. His computer hard drive failed, and it looked as if the film he had shot was lost. "Several facilities told me we'd likely never recover it," by some miracle however, they were able to recover it. 
Throughout the filming, cast members were experiencing difficult life situations as well. 
The filming was eventually wrapped a few weeks ago. Poff is submitting "The Song You'll Never Hear" to the Montgomery Film Festival in July at the Capri Theatre. Because it is a short film, his desire is that it will be selected for more film festivals so others can experience it. His hope is that the film will be enjoyed by others and they will be inspired to pursue their own dreams. "There is nothing in life that I have worked as hard on that the Lord has not blessed," he said.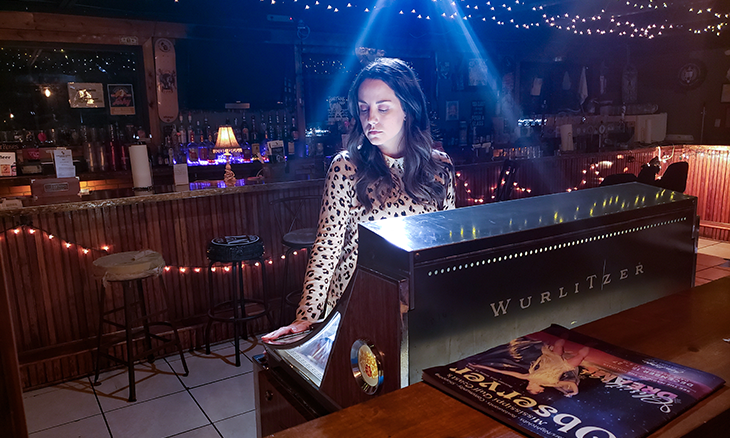 Stephen Poff is a talented and creative individual who is not afraid to pursue his dreams.  He is a father to two girls, Clarissa and Zoe, married to a wonderful lady, Tammi, whom he fell in love with when they were in high school. He says, "My wife and kids are my muse—a lot of the themes in my music and films are tied up in my feelings for them."
"One of the lines in 'The Song You'll Never Hear' in this film was written for them," he said. "If I should pass away you'll read every word I pray and my ghostly words will sing you right to sleep." 
"I hope when my girls look back on my work, they will see something good," Poff said.