Pop-Artist and Urban Hippie Ashley Longshore to be on
Late Night with Seth Meyers on Tuesday April 16th
Photographs courtesy of Ashley Longshore and Spencer Longshore
Many people think that the artist, Ashley Longshore, is a spiritual descendant of Andy Warhol. She is a pop-artist and self described urban hippie. A peak at her media kit shows, "She has had major collaborations with brands such as Chloe, and Anthropologie and has emblazoned the path for pop art and fashion to coexist. Her work has been featured in magazines in both the United States and countries around the world including; Switzerland, Belgium, Japan and Australia where collectors have begun to acquire her unique pieces described by a certain celebrity client as 'Elegant yet rebellious.'" She is also a Montgomery native.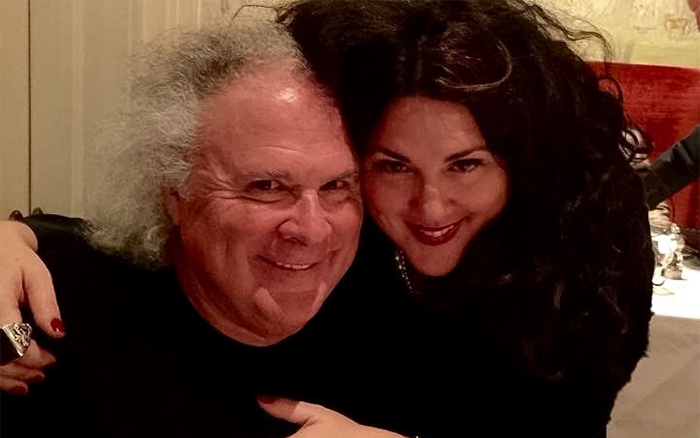 She is quirky, impulsive, flashy smart and uses the kind of colorful language in which four-letter words roll trippingly off the tongue. She also rolls trippingly to the bank to deposit checks of $30,000 and $40,000, payment for sketches and paintings she's often sold to a new best friend in the movie business.
In answer to many requests for advice, she has divided her suggestions into Plan A for close artist friends, and Plan B for the Others. For Plan A she flies her freaky flag and says "don't hide behind safe art. Express something in your work which is important to you. And learn about the business of art. As much as possible eliminate all agents. Why should you pay 50 percent of your earnings to them? Of course, when you're first starting out, they provide a service but later on they're not indispensable."
Her words of wisdom to the Others also have the hard edge of experience. She emphasizes the need for their primary focus to be on building a relationship with their clients, not just trying for a quick sale. About her own work she is quite open. "I create art because I have something to say. I'm impressed by American women so a lot of my art is about these strong, maternal figures and how we express success in our culture. We do it through high fashion."
But Longshore herself often seems of two minds about that. In her work she frequently makes fun of the fashion world, and of the enormous importance many people attribute to it. Then she does a double take and admits "like everyone else I'm obsessed with looking thin and having the right handbag, so I'm a victim of all that hype too."
Her thick, wild, raven locks were inherited from her father, Spencer Longshore, president and CEO of Time and Space, Inc., himself a larger-than-life personality. His love for her and pride for her accomplishments obvious in the glowing manner in which he speaks: "Ash was a sweet, vibrant, turned-on little girl. Boundless energy. Everybody loved her. She was beautiful and had all that dark hair flying, even with a bow in it, which she hated. She had a mischievous streak and was so full of fun. It was obvious from the start that Sarah Ashley was out to change things. She loved her Daddy!"
Though born in Montgomery she spent much time growing up in New Orleans. The ambiance there suited her perfectly, the music, the street-life and the madcap art scene filled a need. She began seriously to study painting, and early on showed a talent and a dedication which surprised her family. Fitting in seamlessly with the life style there she was at ease with the way her colleagues worked hard when they worked and later played even harder.
It was in New Orleans that she bagan to link up with the world of the theater. Actors, directors and hangers-on rapidly became friends, and more importantly, many turned out to be clients with deep pockets. They responded immediately to her style of painting with its tongue-in-cheek mockery and its flattery with a silken bite. Famous people delighted in their own portraits dressed as nuns or against weird, exotic settings. For some of them Longshore was a kind of Andy Warhol in drag and her popularity climbed ever upward.
Though she spends considerable time in New York her home base is still New Orleans. There she has her work center, the Longshore Studio and Gallery, where she carries on business and is known as a successful entrepreneur. The magazine Town and Country referred to her saying, " her list of famous clients reads like a collection of red carpets." In fact, often she sells her work on the phone to clients as far away as Europe. And she describes what she's selling quite simply. "My paintings are representative of what I see around me. I'm inspired by pop culture and by things that I find intriguing."
So therefore the latest twist is digital. One morning recently she sold a painting for $30,000.00 on Instagram.
Her father couldn't be more proud of her success as an artist and as a person: "I am so proud of her in every imaginable way. We have always been very close and I'm so thankful for that blessing! Honestly, when I think about her success and the person she is, I get teary eyed. I supplied the genes, support, education, love and encouragement and she has done the rest all on her own. Not just locally or nationally but globally. Wow! What more could a father dream for than their first born daughter being independent, secure, full of love and taking on the world and winning! And I've got a front row seat! Amen!"