The Bullers' have Invested in the River Region
By Patsy Robertson
The Bullers – Mark and Sarah Beatty – are from New York city. Now they claim Montgomery as home too. Having invested in numerous historic buildings and properties, primarily centered around Dexter Avenue, the Bullers have a burning desire to help make a difference in the River Region.
It happened by chance… Mark arrived in Montgomery on business some six years ago. Once he rounded Court Square Fountain and looked up Dexter Avenue toward the magnificent Alabama State Capitol, there was no turning back.
By his account, he could not believe his eves. What "excitement." Immediately he contacted his wife and sent photos. "Where do you think this street is located," he asked. She was perplexed. It looked as if he were in an Eastern European city. The charm, the elegance. What a street. But then she saw boarded-up, dilapidated buildings and felt sad.
"It was a phenomenal sight — a scene as if an empire were crumbling. It left a great impression." In that moment their feelings ignited for Montgomery — with Mark standing downtown at the fountain and Sarah at home in NYC caring for their baby, third child.
The timing was perfect. Montgomery Mayor Todd Strange informed Mark of the city's recent public-private program to help market many of the historic buildings. Chief of Staff Mac McLeod helped facilitate procedures. A plan was born.
There were some fearful moments. This would be a first, big step for the Bullers. "We thought, maybe they wouldn't like us," Sarah admitted. "After all, we are Yankees."
But the couple could see that locals had already initiated work for downtown revitalization. "Why don't we try!" Mark announced.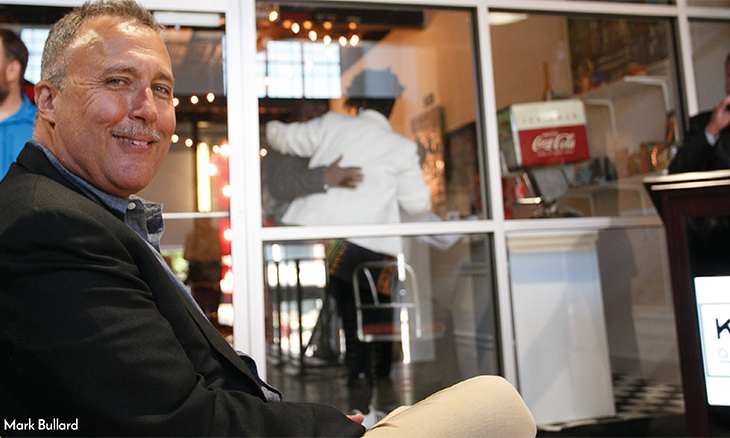 Sarah said Montgomery had always been known to them. "Its rich history has been acknowledged in numerous ways… the stories have been epic."
And it all began. They started work under their newly-created "Montgomery Builds" real estate development initiative. "Our vision is not to demolish old historic buildings, but embrace them, have new structures grow up from them that will serve as platforms for creativity, community, innovation and healing. It's about people — our stories and how we are connected," said Sarah Beatty Buller.
The 1896 S.H. Kress building has been the "symbolic first structure" to be restored. Original terrazzo marble floors were refurbished, walls and intricate molding painstakingly brought back to inaugural, turn-of-the-century appearance. Twenty-eight residential units were added on the fourth and fifth floors. Commercial spaces were constructed on the ground level.
Also uncovered and preserved were historical reminders of the Jim Crow years. Glaring, shameful signage separated white and coloreds.
Kress on Dexter was awarded the national 2018 Excellence in Construction award for the Best Historical Restoration under $25MM.
Very quickly, three local businesses found a home on the renovated ground floor: Prevail Coffee, Chop Shop barbershop and I AM More than Tours. Currently, several more local businesses are making plans to locate.
Sarah's love of buildings was soon joined by her love of Montgomery's people. She confessed to being "struck by the quiet dignity" of our populace.
She felt moved when experiencing how deeply Montgomerians "love their downtown and history… The people are protective and hopeful."
The streets, buildings and rich history belong to the people, she explained. And that's just what they intend to help preserve.
Sarah said she has been "inspired and humbled by the warmth and generosity" of people in the Capitol City. "There is a feeling of possibility."
In addition to redeveloping Kress, at 39 Dexter Avenue, the Bullers also have plans for properties they have acquired at 61 and 67 Dexter, known as the "Concert Hall;" 71 Dexter, 100 Dexter, 116 Dexter, 39 South Perry Street, One Court Square, 121 Montgomery Street, 129 Montgomery Street, 136 Montgomery Street, 801 North Perry — The Yards at Western Rail and some acreage along the Alabama River in Downtown Montgomery.
It all began some 30 years ago, under the search mission of the Buller family's "Mar-Jam" company. (named after the two brothers, Mark and James, as their mother suggested.) After years in business, the brothers decided to expand their building supply wholesale operation southward and east of the Mississippi River.
As a result, Mar-Jam has purchased nine lumber-related businesses in Alabama, to date — one of which is located in Montgomery.
It was during that initial, fortuitous travel to Montgomery that Mark happened on his and Sarah's new venture — after which "Montgomery Builds" redevelopment initiative was created. Sarah explained the name was chosen "because one action builds on the next… and we are all a result of the actions and intentions we create."
Sarah Beatty Buller is a participant with her husband in business ventures. She refers to herself as "an accidental entrepreneur and mission driven builder."
One look at her bio yields dramatic answers of why she is a capable business partner. As a Cum Laude graduate of Harvard College, Sarah was employed for 16 years in media as a senior vice president of network marketing.
She founded two businesses — "Green Depot" and "Greenmaker Industries." The former is a one-stop shop for "green" building materials. It has served many national projects and won an EPA Environmental Quality Award.
"Greenmaker" is a product development firm and manufacturer of environmentally sound American made products. It maintains two production facilities — one in Hartford, Connecticut, another in Atlanta, Georgia.
On reflection of the on-going Montgomery experience, Sarah Beatty Buller says: "This is what I now know — an 'unplanned journey' can be life changing and beautiful. Unbeknownst to them, the imagination, gentility and stalwart strength of the people in Montgomery, Alabama, opened my eyes and my heart. They continue to help me see a path forward — one filled with hope and possibility. Dexter Avenue has become my American street."