No celebration is complete without an array of delicious side dishes.
By STACY LYN HARRIS
Whether you're serving ham or lamb (or something entirely different), round out your menu with a few easy, yet elegant side dishes and a mouth-watering cake to top off your celebration. A Southern-style feast calls for bright and fresh ingredients.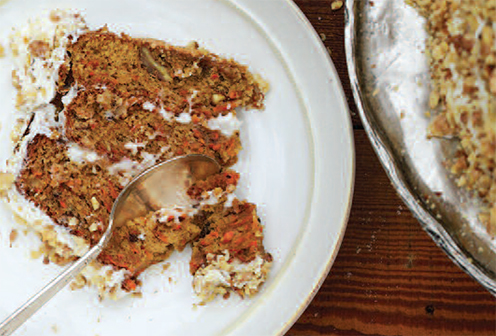 Carrot Cake
3 cups all-purpose flour
2 teaspoons ground cinnamon
1-1/2 teaspoons baking soda
2-1/4 teaspoons salt
1-/2 cups sugar
1-1/2 cups light brown sugar
1-1/2 cups vegetable oil
6 eggs, lightly beaten
4-1/2 cups grated carrots (about 10 medium carrots)
2 cups coarsely chopped pecans or walnuts
CREAM CHEESE FROSTING
2 cups cream cheese (two-8 ounce packages), softened
6 tablespoons butter, softened
7 cups confectioners' sugar
1 teaspoon vanilla extract
2 to 3 tablespoons orange juice (optional)
To make the cake, pre-heat the oven to 350 degrees. Grease and flour three 9-inch round cake pans. In a medium bowl, mix flour, cinnamon, salt, and baking soda until incorporated. In a mixer fitted with the whisk attachment, combine the sugar and the oil on low speed.
Slowly add the eggs to the bowl mixing well on medium speed. At this point, you can't overheat. Make sure the eggs are completely incorporated. Remove the bowl from the mixer and add the flour in two batches mixing until incorporated, but not overworking the batter.
Gently fold in the carrots and the nuts. Bake at 350 degrees for 25 minutes or until the cakes are golden brown and begin to barely pull away from the sides of the pans. Place the pans on a wire rack for about 10 minutes, then turn the cakes onto cake racks to completely cool.
Meanwhile, combine the cream cheese and butter into the mixer fitted with the whisk attachment and mix at medium speed until mixture is light and fluffy, about 2 minutes. Add the confectioners' sugar and the vanilla, and mix until completely incorporated. Add juice if the frosting seems too thick. Place one of the cake layers onto a cake stand, top side down (to make it even to place the icing). Cover the layer icing, then add the next cake layer. Continue adding the icing and layers, then place icing over the entire cake. Refrigerate the cake for about 20 minutes or until the frosting is set.
Potato Salad
8 small new potatoes, boiled
2 boiled eggs
3 Vidalia onions, minced
1⁄2 cup dill pickles
3 celery stalks, minced
1⁄2 cup mayonnaise
2 tablespoons Dijon mustard
1 tablespoon kosher salt
1 teaspoon pepper
Cut the new potatoes into four pieces roughly 1 1⁄2-inch pieces. There is no need to remove the skin. Place the potatoes into medium saucepan and boil until a knife will easily go through the potatoes. Meanwhile, in a medium-sized bowl add the onions, pickles, mayonnaise, mustard, celery, salt, and pepper.
Drain potatoes until they appear to be dry and place them in a bowl with the mayonnaise mixture. Place chopped boiled eggs onto potatoes. Mix gently (I use my hands) trying not to crush the potatoes. Serve hot or cold. Garnish with parsley.
Stacy Lyn Harris is the bestselling author of three cookbooks, founder of the popular Game and Garden blog, and a co-host of "The Sporting Chef" and "Rural Heritage." Her simple approach to sourcing and preparing delicious meals makes life easier for those who want great fresh food everyday. For more information, subscribe to her websites, stacylynharris.comand gameandgarden.com, and follow her on your favorite social networks@stacylynharris.