Mt. Vernon Theatre is Bringing New Life
It's been fifty years! The Historic Mt. Vernon Theatre in Tallassee closed its doors in 1968…but this year has seen a glorious reopening.
By Patsy Robertson
Photos by Tallassee Tribune
During January 19-21, 2018, the whole town was celebrating the grand reopening. Everybody came. Not just those living in Tallassee, but those who did years ago. And those who knew those who did — or just heard about the event.
The Theatre's the thing. It has made all the difference in the Tallassee spirit. There's heaps of nostalgia. So palpable you could scoop it up with a spoon. The buzz of happy memories, the joy of new dreams. Better watch out… there's an exuberant community feeling spreading around town. And it's contagious.
Mt. Vernon Mills, Tallassee's major source of employment for more than a century, built the theatre in 1935. During the last couple years, a group of dedicated citizens has labored fiercely to restore the interior to its premier appearance. It's authentic and cherished. All 600 wooden seats are original, acoustics have been preserved by restoring original cork walls which serve as the façade for 16inch thick walls. Where necessary, sconces were repaired not replaced — using innovative techniques created by Kenneth Bell, of Stacey Gunn Contractors. A new play was written by Adrian Lee Borden, expressly for the momentous occasion. She pulled from poignant, memorable years in penning: "Dear Mama: Letters and Music from World War II." Ms. Borden was commissioned to write the play by Friends of Tuckabatchee and Tallassee Historical Preservation Society. The play hit home to almost 2000 people who packed the auditorium for performances over three days.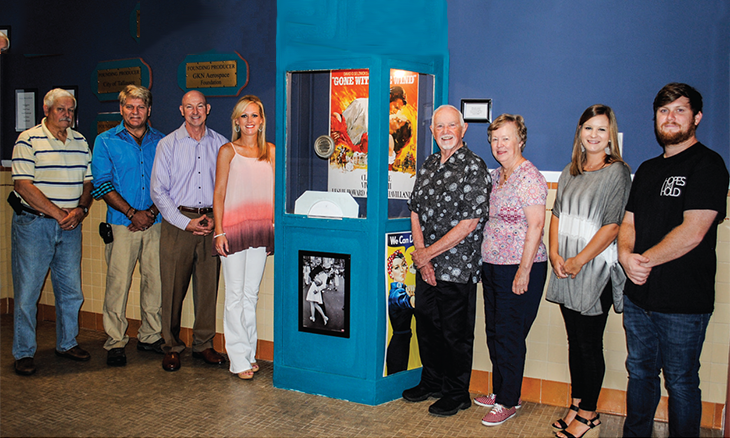 There were memories of local soldiers going to war. Many of the same, veterans now, watched and were recognized at performances. Letters read during the play reflected events at home: Of hometown happenings and the Mill's continued employment opportunities. Others came from brave soldiers — overseas, faraway and homesick. And the music was something grand. Everyone felt part of the history and sentiments of songs, such as: "Don't Sit Under the Apple Tree," "I'll Be Home for Christmas," "I'll Be Seeing You," "White Cliffs of Dover," "Coming in On a Wing and a Prayer," as well as a rousing patriotic Armed Forces Medley. A ten-piece, local orchestra added dramatic background.
Part of the uniqueness and charm of the event is that almost everyone in town pitched in, in some way: There was Noah Griggs, former U.S. Operations Executive for Hardees, a natural for handling the concession stand. Brooke Rigsby, whose dance troupe, "Studio B," performed on stage, arrived early to help work the ticket booth. Local businesswoman Kami Scarborough worked tirelessly behind the scenes helping Theater Manager, Hannah Johnson. Cyndi Townley was praised for the "terrific job" she did as assistant stage manager. Everyone's favorite was James Manning, the ticket-taker from way back when, who traveled from his home in Sarcoxie, Missouri, to re-assume his favorite teenaged role. Not only did he take up tickets, but you never saw such happy "welcomings" as he gave out. Furthermore, James wanted to make sure everything was perfect — so he polished every single seat in the house!
Talk about a hometown project.
The two-act play featured some 60 local actors, ranging in age from seven to 75. Throughout 41 separate scenes, outstanding performances were given by cast members: Carli Aldridge; Abbey, Danielle, Gregory, Miriam and Sena Bird; Kyle Boatwright; Adrian, Amanda and Lee Borden; Zane Blankenship, John Burgess, Trace Bush, Georgia Anne Butler, Tristin Carter, Anna Coker, Grace Coker, Naomi Curran, Delena Dean, William Finney, Derek Gentle, Alexis Gray, Deana Gray, Matthew Hall, Emma Humphries, Don Ingram, Wesley Jimmerson, Hadden Langley, Jeff Lee, Kenneth Loomis, James Love, Joanna Love, Skye Mayer, Mike McElroy, Sarah Missildine, Willie Moseley, Mallory Nichols, Jeff Parker, Kristina and William Pendergrass, Kat Raiford, Stephen Rogers, Maggie Rowe, Susie Seal, Mary Segrest, Don and Marilyn Speake, Jemila Spencer, Whitney Watson, Wiatt Watson and Leon Whatley. Production staff for the play included, Director, Jeanna W. Kervin; Producer, Elizabeth W. Britt; Wardrobe, Ann Christian; Sound, Jordan Cunningham; Lighting, Tripp Storm; Stage Manager, Kristina Pendergrass; Music Production, Bob and Rose Taunton.
But Jan Autery is the person who tops every list. She has served tirelessly as leader/chairperson for the entire theatre venture, ever since its inception. With her gentle, genteel ways, Jan has moved mountains. All of Tallassee praises her dedication. The Executive Board of Directors working with Jan are Gene Lawrence, President; Wylie J. Troupe, Joseph T. Scarborough, Justin Mitchell, Barry Parker, Sid and Mary Edwards. An Operations Board is actively engaged with functions too. Members, include: Hannah Johnson, Theatre Manager; Frank Autery, Lauryn Beckham, Adrian Borden, Liz Britt, Don Bryant, Leigh Anne Butler, Donna Carter, Ann Christian, Janice Dillard, Mickey Garnett, Noah Griggs, Jackie Hammock, Melissa Hill, James Houts, Myra Johnson, Jeanna Kervin, Jacque Martin, George McCain, Chris McElvaine, Justin Mitchell, Griffin Prichard, Brooke Rigsby, John Rogers, Kami Scarborough, Becky Segrest, Willie Smith, Carl Stewart, Tripp Storm, Cyndi Townley, Ida Turner and Stephanie Weldon.
The theatre is moving forward with various events – plays, movies, musical performances, dance classes – whatever people would enjoy and like to attend. Admittedly, it is new and struggling — but also focused and driven. Let the word get out that involvement is needed! Everyone can assist — through on-site assistance, and/or much-needed donations.
Checks can be made payable to Mt. Vernon Theatre; mailed to P.O. Box 781202; Tallassee, AL 36078.